Frequently Asked Questions

Where can I find more guidance about the report?
Click the question mark in the upper right corner of the APP report page to view.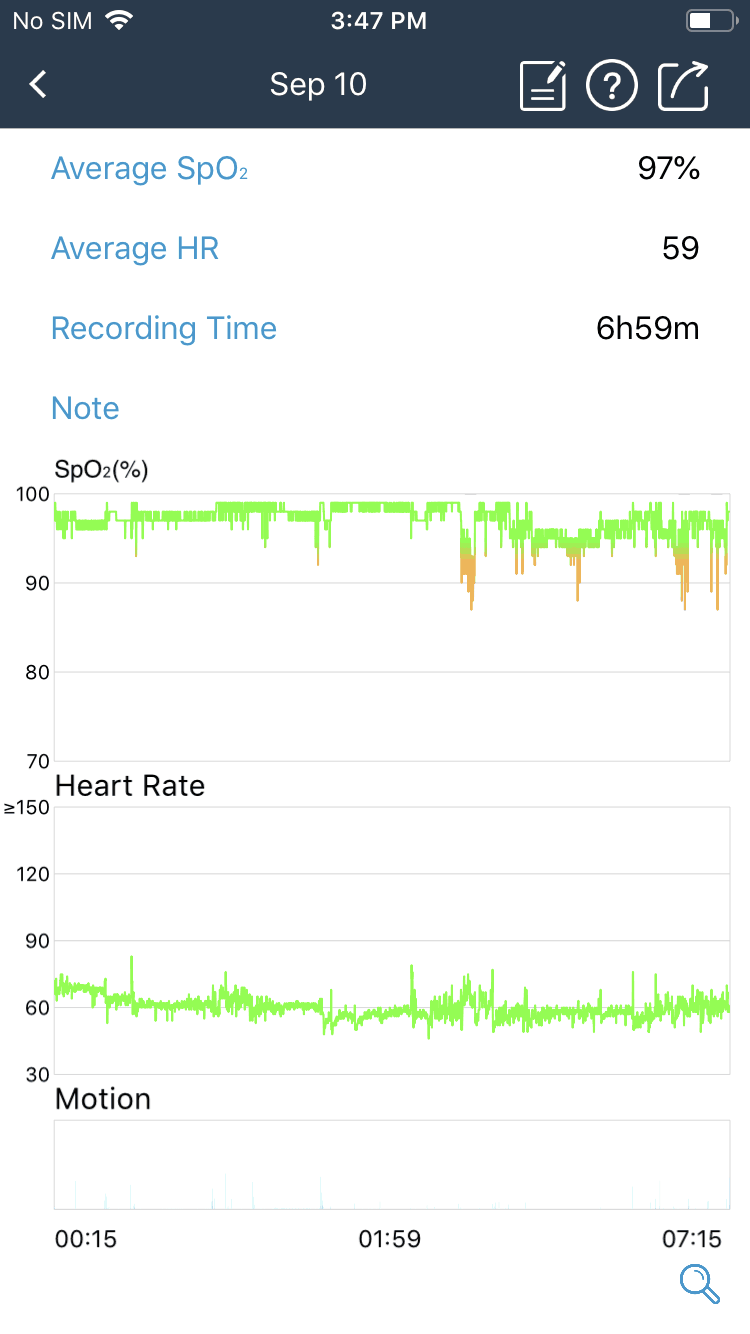 1) START.Charge the battery. Wear the sensor on thumb, index finger as option in case of too tight for thumb.
2) STOP.The device turns off automatically in a moment after you take off the ring. Open app to sync data which will help you get sleep insight.(If the working time is less than 2 minute, the data will not be saved)
Open App to sync data, check results.


Do I need to keep my Oxylink close to my cell phone?
No, you don't.
Bluetooth communication distance is required to be less than 20 meters. When the device gives an audible alarm, the mobile phone will give an audio alarm at the same time.
Do I need to pair Bluetooth?
The device Bluetooth will be enabled automatically after it's turned on.To establish a Bluetooth connection,
1)keep the device Bluetooth enabled.
2)Make sure the phone Bluetooth is enabled.
3)Run the App.

Why do I need to allow Location access for Android?
With android phone, you need to allow Location access to make Bluetooth work. We DO NOT collect your location data.
Do I need to power off the monitor manually?
Usually no need. If you don't use it, it will power off automatically in a while.
If the battery runs out during use, will the data be saved?
Can I change the settings of audio alarm?
Yes. When you connect the monitor to your phone, you can turn on/off the sound, change intensity or threshold in your phone APP.

How to correct the time on the screen if it's incorrect?
Connect to your phone, time will be corrected automatically.
Can I use other finger than thumb?
Thumb is recommended, index finger as option in case of too tight for thumb.You can try to move the sensor along the index finger to find out a best fit,also can try to rotate the sensor around the finger to get a comfortable wearing.Do not leave space between the sensor and finger, loose wearing will cause inaccurate measure.
How can I connect new device with smart phone?
For the initial use, you need to add a new device.
1)Turn on device, run App, select ;
2)Then input the last 4 digits on the back of your device.

Do I need to connect device to phone app duirng sleep?
It is not necessary. The built-in storage is up to 4 sessions.