Real-time Audio Alarm for Low Oxygen Levels in Your Phone and Device.
Real-time Audio Alarm for Low Oxygen Levels in Your Phone and Device.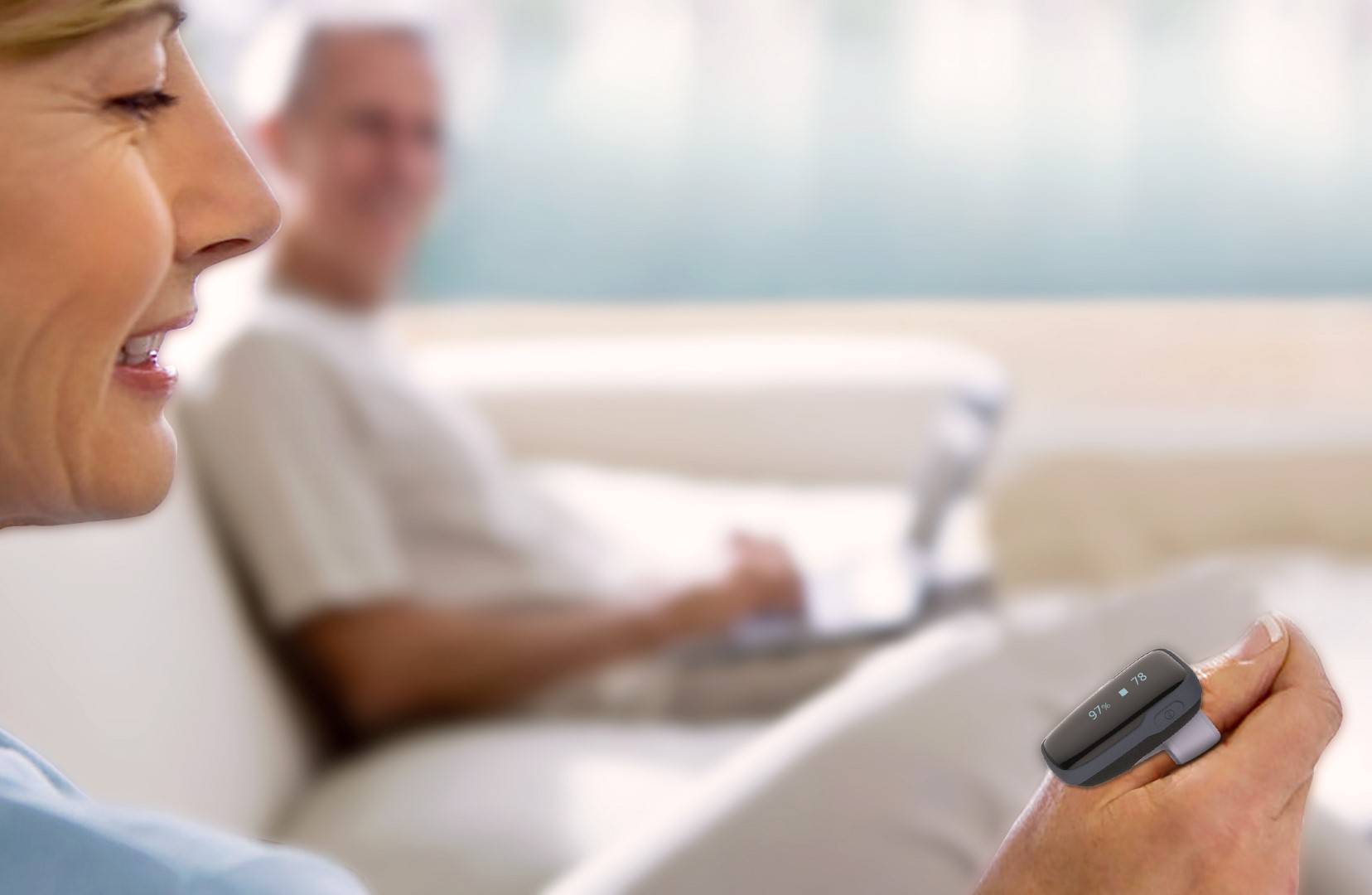 Audio Alarm

Audio reminder for low blood oxygen in mobile APP & device


Free APP

Adjust audio reminder intensity, threshold, switch in APP

Continuous Monitoring

Daily & Nighttime record oxygen saturation levels

& heart rate

Wearable

Wearable device, easy to take. More comfortable
Bluetooth

Connect device to APP via Bluetooth 4.0
Rechargeable
Built-in rechargeable battery 12-16 hours battery life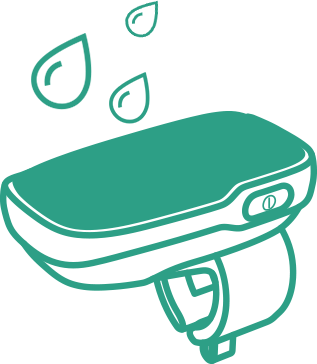 IP 64

Life waterproof IP64

Built-in Memory

Work stand-alone, even without mobilephone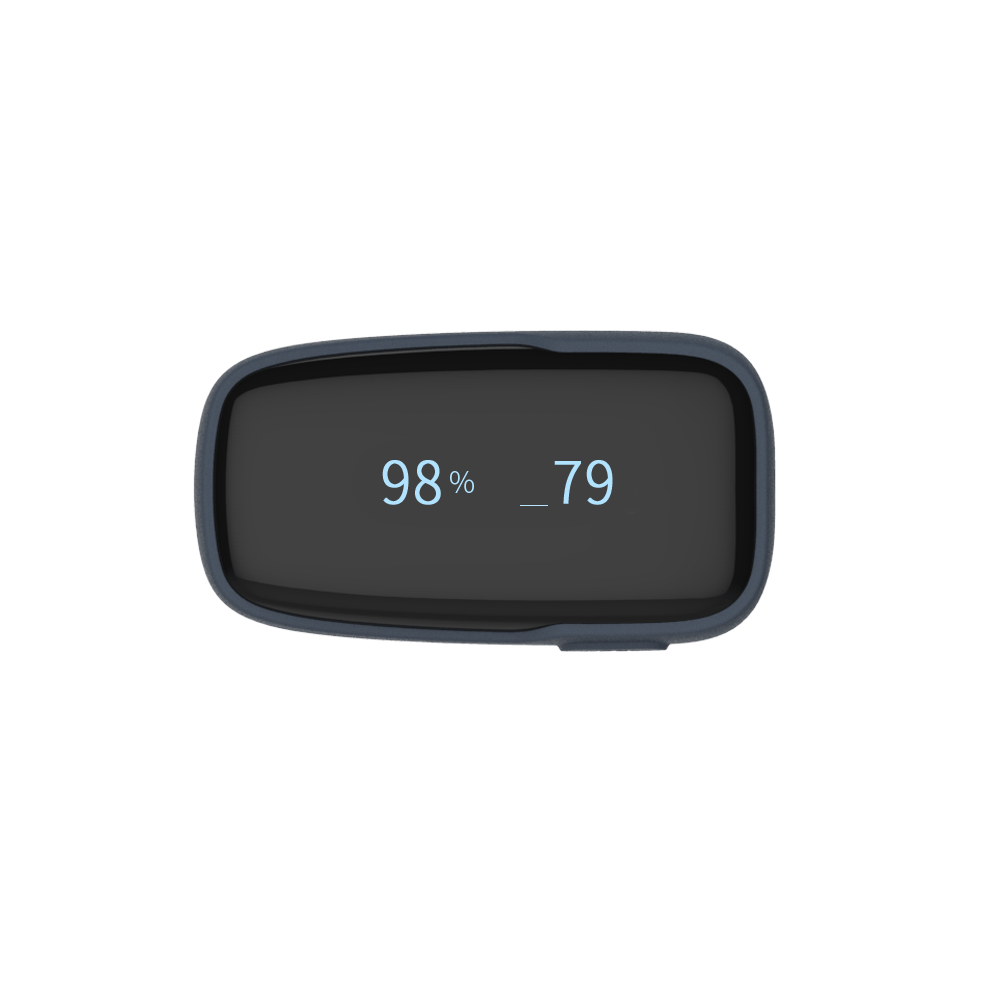 Continuously Track Blood Oxygen Levels and Heart Rate
Just wear the FDA listed Wellue® Oxylink™, it will monitor your blood oxygen saturation, heart rate, body motion and perfusion index(PI) every second.
Audio Alarm in the Oxylink™ and Your Phone
When hypoxia event is detected, the Wellue® Oxylink™ and your smartphone will alert you or your caregivers immediately. And the alarm on device and phone could be adjusted separately! Now a ring oximeter you can wear continuously. Enjoy the peace of mind.

*The device and APP are linked via Bluetooth, please ensure that Bluetooth communication distance under 20 meters.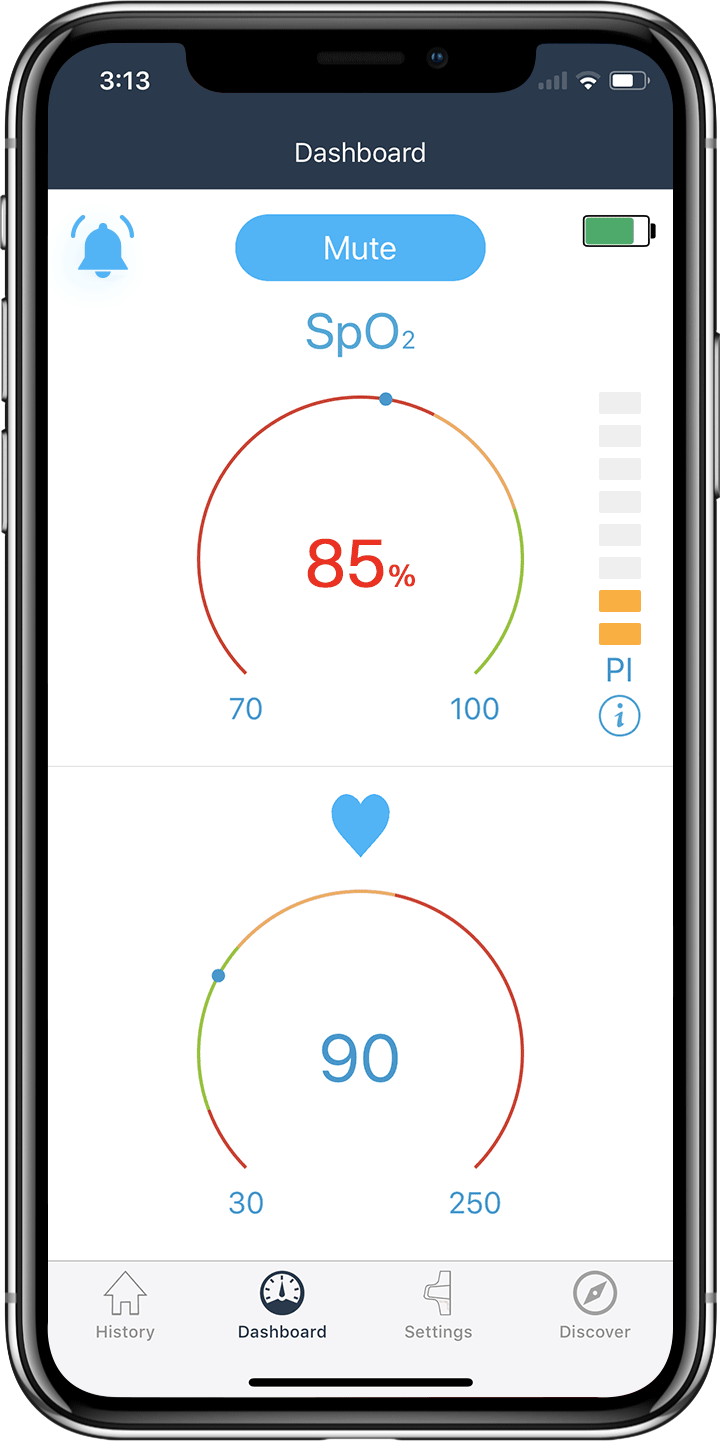 Control Your Audible Alarm at Will

You can turn on/off the audible alarm, adjust alarm volume and oxygen level threshold to fit you best. Make the Wellue® Oxylink™ specially designed for you.

*The reminder will be activated when the oxygen saturation levels fall below the pre-set value (Threshold).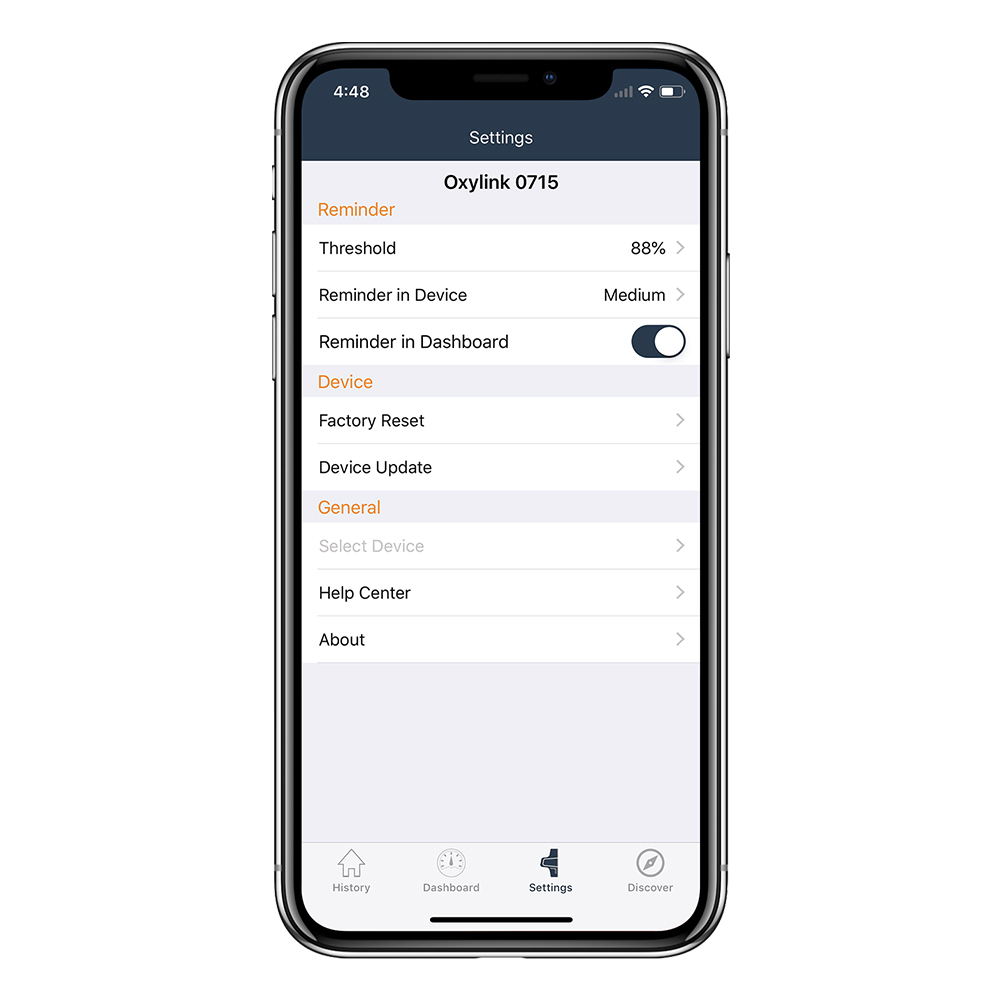 Historical Data and Trends

Record and track your long-term oxygen and heart rate data every minute.
Log notes to record your activity or progress with each measurement.
Share visual snapshots with your family or doctor.

Better than Traditional Fingertip Oximeter
Traditional
Fingertip Oximeter
Only for spot checkNo APP alarm
Audio alarm in APP & device
WEIGHT
18g/0.63oz
DEVICE DIMENSIONS
1.7'' x 1.0'' x 0.6''

RING PERIMETER
2''~3''/50~76mm
WIRELESS
Bluetooth 4.0 BLE
WORKS WITH

iOS 9.0 or above, iPhone 4s / iPad 3 or above; Android 5.0 or above

AUDIO ALARM SOURCE
Low oxygen levels
OXYGEN LEVEL RANGE
70%-100%
BATTERY TYPE
Rechargeable lithium-polymer battery
BATTERY LIFE
12-16 hours for typical use

COMPATIBLE COMPUTER SYSTEM
N/A

HEART RATE RANGE
30 to 250 bpm
MEASURE INTERVAL
1s
DISPLAY INTERVAL IN APP DATA CHART

1min
BUILT-IN STORAGE
4 sessions, up to 10 hours for each
DEGREE OF DUST & WATER RESISTANCE

IP64
Compare with Similar Items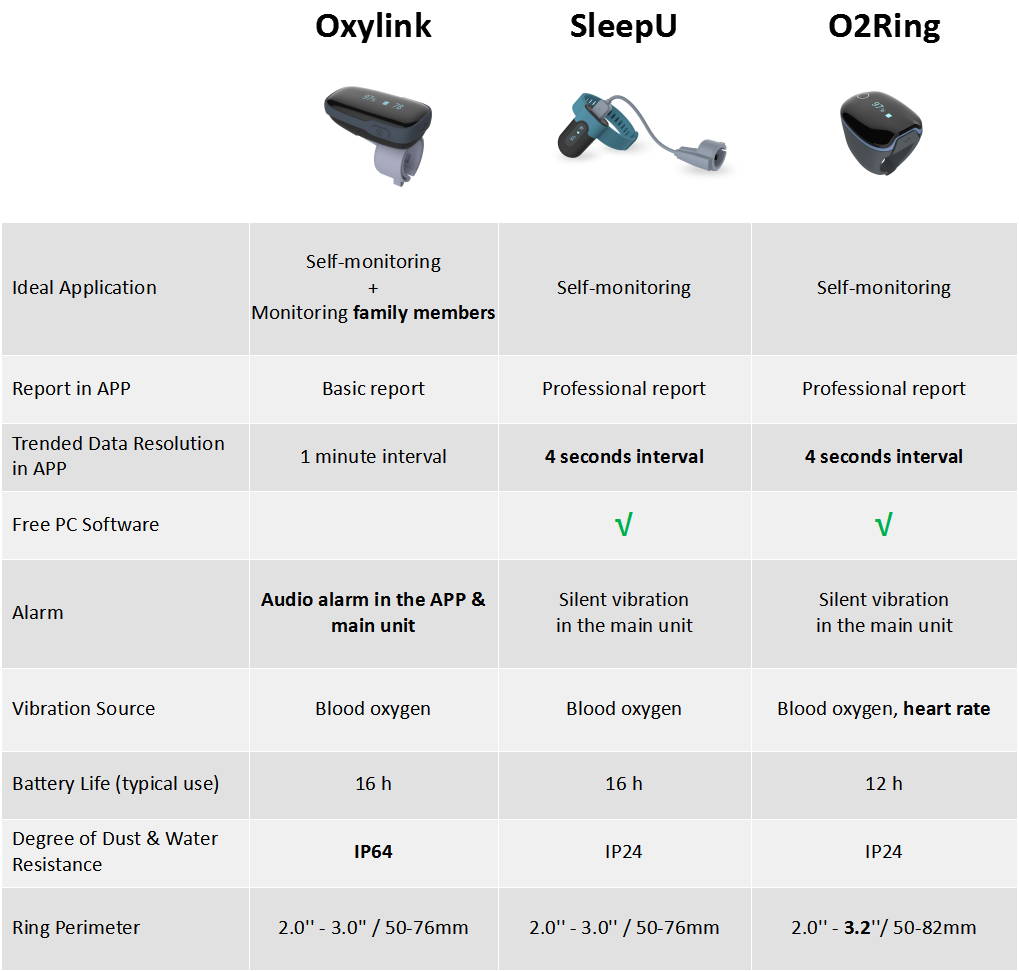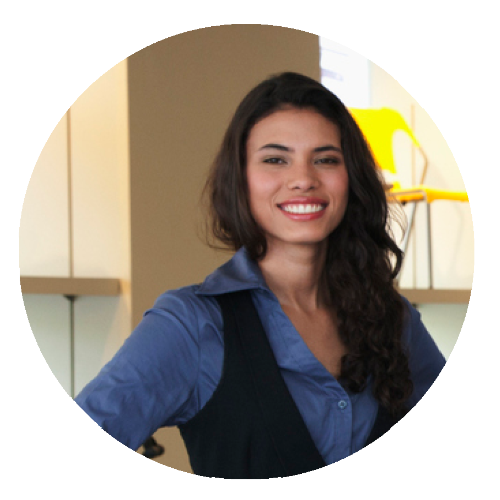 "My mom has COPD and this makes it where she can monitor her self easily while out and about. It really is a handy device. It is easy enough for her to setup and use and she is an older lady. Fit on the finger well..."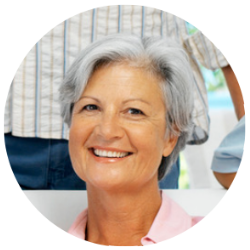 "This reads your oxygen level, and heart rate quickly and accurately. Having health issues helps me stay on top of potential problems...This is very comfortable to wear I have been putting it on my thumb while sleeping, and I use the app to store and analyze the data."